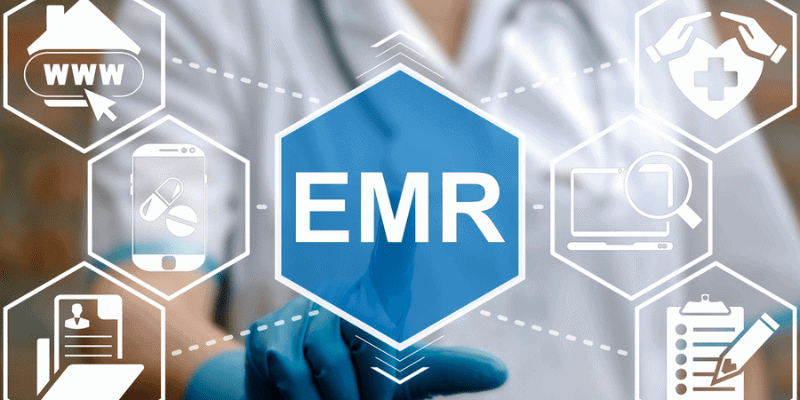 What is an EMR system? What are the types, benefits, and features of an EMR system?
Electronic medical records
Electronic Medical Records (EMR) stores and retrieves patient records from your server, eliminating hundreds of manual files from your filing cabinet.
Electronic medical records (EMR) make it easy for doctors, nurses, and patients to access information quickly. You may think digital records are less secure than manual records, and you couldn't be wrong. Since passwords and biometric scanners can be used to restrict access, documents become more confident. Recent growth in the use of electronic medical records (EMRs) has led to the development of services to transfer records from paper to digital files, which can be uploaded to the EMR system.
In general, EMR software records digital data that can be used to monitor and track patient health. Additionally, EMR systems provide the opportunity to review files remotely, with multiple people reviewing charts simultaneously, so that handwriting or other confusions that occurred in the past are no longer a concern.
How is it different from electronic health records?
Contrary to popular misconception, an electronic medical record (EMR) is not an electronic health record (EHR). Although both systems are similar in use and capabilities, they are not interchangeable for the needs of clinicians. An electronic health record focuses on the overall health of your patients. Electronic medical records usually do not comprehensively capture a patient's medical history.
If patients change hospitals, clinics, or doctors outside their current network, they may not be able to bring their electronic medical records.
Medical offices can keep better and more secure records with the help of electronic medical record systems. Unlike electronic health record software, electronic medical records cannot be easily transferred. Compared to more robust EHR software systems, EMRs come with lower costs and fewer implementation challenges.
The choice between electronic medical and health records depends on which functions are most useful for the hospital, office, or clinic.
Main functions of EMR
Doctors and clinicians have more ways to record and use patient information with electronic medical records. Clinics and hospitals better control health data by replacing paper records with digital software. Electronic medical records (EMR) systems have several key features for physicians and their patients.
Simplified Charting: The information is stored in a secure digital space when a new diagnosis is made. You don't need to manage multiple plans for multiple patient appointments. Additionally, you can read digital records more accurately and clearly.
Electronic Prescriptions: Most electronic medical records have electronic prescribing functionality, allowing pharmacies to receive prescriptions faster. Doctors can also get suggestions about drug interactions and dosage amounts with this feature.
Patient Portal: Medical information from electronic medical records can be directly accessed by patients. The most effective EMR systems provide secure online access to patients' medical history, medications, lab results, and past hospital and clinic visits.
Decision Support: Most EMRs can benefit from a helpful patient portal built into them, with various functions that help patients manage specific aspects of their health care. The patient is informed about upcoming treatments, recommendations for particular procedures, and reminders about scheduled treatments.
Order Entry: Electronic medical records help physicians store and distribute lab test orders. With electronic medical records (EMR) systems, the system is less likely to be misplaced. Additionally, errors are filtered out of the system before they become problems. Healthcare organizations and patients save money and time in the long run by not having to repeat tests.
Advantages of electronic medical records
Healthcare providers can take advantage of the many benefits that electronic medical records provide. While this list is not exhaustive, it gives an idea of ​​how electronic medical record software can improve patient care and record management.
Coordination of Care: The EMR allows providers to track patients' progress from their first visit to their follow-up appointment. This picture is necessary for coordinating medication, therapy, and laboratory tests. All medical records will be available to patients to coordinate care with other clinics if required.
Improve patient care: Unlike paper records, doctors using EMR records can view patient information differently. Patient health outcomes are expected to improve in the long term. Weight, cholesterol levels, blood pressure, and other health data can be used to generate valuable charts through electronic medical records. The better information a doctor gathers over time, the better they can diagnose potential health problems.
Minimal Medical Errors: Patients and doctors can rest assured that their information is the most up-to-date and accurate with electronic records. Conversely, paper records can become missing or illegible, leading to misdiagnosis or incorrect prescriptions.
Efficiency: Healthcare facilities and clinics can operate more efficiently with electronic medical records. Administrative staff no longer need to file and store large documents in a safe and secure location.
EMRs also prevent doctors from recommending unnecessary tests to their patients. This simplification of information saves patients and providers money and time.
Types of EMR Software
Any hospital or medical provider can easily accept electronic medical records. You can choose from a range of electronic medical record system options. The choice of an EMR system ultimately depends on medical providers' individual needs and capabilities.
Conclusion
Healthcare is an ever-evolving technology industry. Electronic medical record systems represent a way to improve the quality of medical care for many physicians and health care providers.
Although EHRs are more comprehensive than EMRs, EMRs improve health outcomes for patients. Doctors can periodically monitor patient data, schedule preventive appointments, manage medical treatments and monitor chronic diseases.
DENmaar's medical EMR and EHR systems provide all the above benefits. Call us now!
Related Posts

Why Outsourcing Your Behavioral Health Billing Is BeneficialHealthcare...