The Complete Guide to Insurance Credentialing for Therapists
Insurance credentialing offers numerous benefits for therapists, including increased client base and financial stability. However, the process can be complex and time-consuming. It's essential to follow specific steps that ensure a successful credentialing process. These include gathering all necessary documents, completing applications accurately, and submitting them promptly. Common challenges in insurance credentialing include navigating insurance company requirements and dealing with delays or denials. Consider using a credentialing service such as DENmaar to ease the burden. When choosing a service, consider their experience, reputation, and cost. Staying updated with insurance credentialing requirements is crucial to maintaining a smooth and successful practice. Let us explore a complete guide to insurance credentialing for therapists.
What is Insurance Credentialing?
Insurance credentialing is the process of obtaining approval from insurance companies to provide services and receive reimbursement. It involves submitting necessary documentation, such as licenses, certifications, and malpractice insurance, to prove qualifications and eligibility. Insurance credentialing for therapists plays a crucial role in the healthcare and therapy industry, as it allows therapists to expand their client base and ensures that patients can access affordable and quality care through their insurance plans. To become a credentialed therapist, you must go through the process of applying to and being approved by insurance companies. Insurance credentialing is the process by which therapists gain approval from insurance companies to provide covered services to their clients. Here is what you need to know about insurance credentialing:
Importance of credentialing: Credentialing is crucial as it allows therapists to accept insurance and expand their client base.
Credentialing requirements: Insurance companies have specific requirements that therapists must meet, such as having a valid license, malpractice insurance, and appropriate education and experience.
Credentialing process timeline: The credentialing process can take several months, with each insurance company having its own timeline for reviewing applications.
Common credentialing challenges: Delays, paperwork, and meeting the various requirements can be challenging for therapists during the credentialing process.
Credentialing for different therapy specialties: Each specialty may have specific requirements and considerations for insurance credentialing.
Role of Insurance Credentialing in the Healthcare and Therapy Industry
Insurance credentialing is essential for therapists because it allows them to establish contracts with insurance companies, provide services, and receive payment from those insurance plans. This process significantly impacts therapy practices, expanding the therapist's client base and increasing their revenue potential. However, therapists often face challenges during credentialing, such as completing extensive paperwork, meeting specific requirements, and dealing with lengthy approval times. Furthermore, insurance credentialing can also affect therapist-patient relationships, as it may limit the number of sessions covered by insurance or require patients to pay out-of-pocket. The future of insurance credentialing in the therapy industry is uncertain, as it may continue to evolve and adapt to changing healthcare regulations and policies.
Why is Insurance credentialing for therapists essential?
Insurance credentialing is essential for therapists because it ensures timely payments from insurance companies, boosting your practice's performance and credibility. By becoming credentialed, you can expand your patient reach by being part of insurance carriers' networks, allowing you to serve a broader population and increase your client base. This process is crucial for therapists looking to establish a successful and sustainable practice.
Ensuring Timely Payments from Insurance Companies
Ensure your therapist credentials are up-to-date for seamless and prompt payment processing. Ensuring timely payments from insurance companies is crucial for therapists to maintain a steady and reliable income. To achieve this, you must be aware of common payment issues and implement strategies for effective billing. Negotiating reimbursement rates with insurance companies can also help you receive fair service compensation. Additionally, knowing how to deal with claim denials and navigate the appeals process is essential. By understanding the intricacies of insurance reimbursements, you can maximize your earnings and avoid unnecessary delays in payment. Stay proactive and informed to ensure a smooth financial process with insurance companies.
Boosting Practice Performance and Credibility
Insurance credentialing is crucial for therapists as it allows them to improve reimbursement rates, build trust and credibility, maximize practice revenue, increase patient satisfaction, and navigate insurance billing challenges effectively. By becoming credentialed with insurance companies, therapists can negotiate higher reimbursement rates for their services, ensuring fair compensation for their expertise and time. It helps increase practice revenue and allows therapists to provide quality care without financial constraints. Insurance credentialing also helps build trust and credibility among patients, showing that therapists meet the necessary standards and are qualified to provide professional healthcare services.
Expanding Patient Reach
By being part of insurance carriers' networks, therapists can experience various benefits. Firstly, it allows them to expand their reach to more patients and increase the accessibility of their therapy services. It is essential because it enables therapists to maximize reimbursement, expand their therapist network, attract new patients, navigate insurance regulations, and improve financial stability.
Maximizing reimbursement: Being part of insurance networks ensures that therapists receive payment for their services at the agreed-upon rates, allowing them to maximize their income.
Expanding therapist network: Being part of insurance networks exposes therapists to a larger pool of clients. This exposure enables them to collaborate with other therapists on patient care.
Attracting new patients: Patients often search for therapists within their insurance network. Therefore, joining these networks increases therapists' chances of attracting new patients.
Navigating insurance regulations: Insurance credentialing requires therapists to understand and abide by various regulations and policies. This understanding ensures compliance and a smooth reimbursement process.
Improving financial stability: Therapists can establish a steady stream of clients and income by accepting insurance. This acceptance provides excellent financial stability for their practice.
A Step-by-Step Guide to the Insurance Credentialing Process
To begin the insurance credentialing process, you'll need to gather all the documents and information required by the insurance panels. Once you have completed the application, it will be submitted for review. Your credentials, including experience, license, certification, and education, will be checked for accuracy during verification. After submission, there will be a waiting period while the insurance panels review your application.
Initial preparation
Gather all the necessary documents and information to kickstart your insurance credentialing process as a therapist, ensuring a smooth and efficient application process. It's crucial to gather the following:
Required Documents: Prepare to submit copies of your professional licenses, malpractice insurance documentation, and any relevant certifications or qualifications.
Necessary Information: Ensure you have your personal information, such as your name, address, and contact details, readily available. Additionally, you need your National Provider Identifier (NPI) number, Taxpayer Identification Number (TIN), and Social Security Number (SSN).
Gathering Documents: Collect any additional supporting documents that may be required, such as proof of education, proof of residency, and proof of clinical experience.
Information Preparation: Organize your credentials, licenses, and other supporting documents in a clear and easily accessible manner. It will help streamline the application process and prevent any delays.
Initial Steps: Familiarize yourself with the specific requirements and guidelines set by each insurance panel you plan to apply to. It will ensure you're fully prepared and meet all the necessary criteria.
Application Submission to Insurance Panels
Now that you have all the necessary documents and information, it's time to submit your application to the insurance panels. Before you do, you must be aware of common mistakes therapists often make when applying. One common mistake is submitting incomplete or inaccurate information, leading to delays or rejection. To avoid this, double-check all sections of your application for accuracy and completeness. To ensure a successful insurance panel application, follow these tips:
Thoroughly review the application requirements.
Provide all requested documentation.
Complete the application neatly and legibly.
Additionally, understand the insurance panel reimbursement rates and negotiate contracts with insurance companies to ensure fair compensation for your services. Lastly, maintaining accurate credentialing records is essential. Keep track of important dates, such as when your credentials expire, and update your information promptly to avoid disruptions in your panel participation.
Verification of credentials
When going through the insurance credentialing process, ensure you verify your experience, licensure, certification, and education. Thorough verification is paramount to ensure compliance with insurance requirements and overcome common credentialing challenges. Here are some strategies to help you overcome these obstacles and maximize the impact of credentialing on your therapy practice success:
Submit all required documentation promptly and accurately.
Stay organized and keep track of all the necessary paperwork.
Follow up regularly with insurance panels to ensure a smooth and timely credentialing process.
Seek assistance from professionals or organizations specializing in insurance credentialing.
Stay updated on any changes in insurance requirements to maintain compliance.
Waiting Period
During the waiting period, the insurance company reviews your application and verifies that you meet their credentialing requirements. The waiting period's length can vary depending on the insurance company and their credentialing timelines. It's important to note that credentialing challenges may arise, such as missing documentation or delays in communication. Different therapy specialties may also have specific credentialing requirements that need to be met. For private practice therapists, the waiting period can be particularly crucial as it determines whether they can accept insurance and provide services to clients. Understanding the waiting period and its intricacies is essential for therapists navigating the insurance credentialing process.
Approval, Denial, and Possible Re-Application
After the waiting period, you'll receive a notification regarding the approval or denial of your insurance credentialing application, and there may be an opportunity for reapplication if needed. If your application is denied, it's crucial to understand the reasons for denial before proceeding with the reapplication process. Common mistakes that can lead to denial include incomplete or inaccurate information, missing documentation, or failure to meet specific criteria. To overcome credentialing challenges, you can appeal denials by providing additional evidence or clarifying deficiencies in your initial application. Reviewing your application is essential, ensuring all required information is included and accurate before reapplying. Remember, persistence and attention to detail are key when navigating the insurance credentialing process.
Role of Advanced Automation in Streamlining Credentialing
Advanced automation is crucial in speeding up the overall timeline when streamlining credentialing. By automating various tasks, such as data entry and verification, you can significantly reduce the time and effort required for credentialing. Additionally, automation helps minimize errors and ensures the accuracy of information, ultimately improving the efficiency of the entire process. A prime example of how advanced automation can be leveraged in credentialing is through the services provided by DENmaar, which incorporates cutting-edge automation techniques to maximize efficiency and streamline the credentialing process for therapists.
How Automation Speeds up the Process?
To expedite the credentialing process, implementing advanced automation speeds up the process for therapists. Automation brings numerous benefits to insurance credentialing, improving efficiency and streamlining the entire process. Here are some key advantages:
Benefits of automation in insurance credentialing: Automation reduces manual tasks, saving time and resources.
Improving efficiency with automated processes: Automation allows faster data entry, verification, and communication with insurance companies.
Streamlining insurance credentialing with automation: Automated systems centralize and organize all necessary documentation, making tracking and managing credentials easier.
Maximizing accuracy through automated systems: Automation minimizes human errors and ensures that all information is up-to-date and accurate.
The future of insurance credentialing- Automation Advancements: As technology advances, automation will become even more sophisticated, further improving the credentialing process.
Reducing Errors and Ensuring Accuracy with Automation
Automation solutions for insurance credentialing can streamline the process, from collecting necessary documents to submitting applications to insurance companies. Automation saves time and effort by eliminating the need for repetitive tasks and manually tracking credentialing status. Maximizing efficiency with automation in credentialing allows you to provide quality patient care instead of getting lost in paperwork.
How DENmaar Incorporates Advanced Automation for Maximum Efficiency in their Services
At DENmaar, we incorporate advanced automation in our services to ensure a seamless and efficient credentialing process. Using technology, we can leverage automation benefits for insurance companies and streamline healthcare processes. Here are some ways we utilize advanced automation:
Automating insurance claims processing to improve efficiency and reduce errors.
Implementing electronic systems for faster and more accurate data entry.
Utilizing automated verification processes to save time and effort.
Automating the provider enrollment process for quicker credentialing.
Embracing automation in therapy practices to streamline billing and reimbursement.
The future of automation in the healthcare industry is promising as it continues to revolutionize processes and improve patient care. With DENmaar's advanced automation techniques, therapists can experience the advantages of a streamlined credentialing process.
Benefits of Partnering with an Expert Credentialing Service
First and foremost, these services possess the expertise and knowledge needed to navigate the intricate credentialing process. They stay up-to-date with the ever-changing requirements and regulations, ensuring your credentials are always compliant. Additionally, partnering with an expert credentialing service helps reduce liability risks and errors, giving you peace of mind knowing that your credentials are being handled precisely and accurately.
Expertise and Knowledge of the Intricate Process
Here are some reasons why partnering with an expert credentialing service can benefit you:
They're familiar with the everyday challenges therapists face during credentialing, ensuring a smoother experience.
They stay updated with the latest credentialing requirements, saving time and effort researching and understanding these complex regulations.
They're knowledgeable about industry trends, allowing them to provide valuable insights and guidance.
They follow credentialing best practices, ensuring accuracy and compliance in your application.
They've access to credentialing resources that may not be readily available to individual therapists, giving you a competitive edge.
Continuous Monitoring and Updates
By partnering with an expert credentialing service, you can benefit from continuous monitoring and updates to ensure the success of your insurance credentialing process. Continuous monitoring allows for ongoing evaluation of your credentials, ensuring you meet all requirements and comply with insurance regulations. Updates are crucial to keeping your information accurate and up-to-date, as any changes in your practice need to be reflected in your credentialing documents. Automating tasks saves time and reduces the potential for errors. Additionally, partnering with a credentialing service can minimize liability risks, as they have the expertise to navigate the complex world of insurance credentialing. Success stories from other therapists who've utilized credentialing services highlight the positive impact they can have on the process. With continuous monitoring and updates, you can ensure that your insurance credentialing is always in order, setting the stage for the subsequent section on reducing liability risks and errors.
Reduction of Liability Risks and Errors
You can reduce liability risks and errors by partnering with an expert credentialing service. Here are some key points to consider:
Importance of professional liability insurance: Having the right insurance coverage is crucial for therapists to protect themselves from claims and lawsuits.
Standard liability risks in therapy practice: Therapists may face malpractice allegations, confidentiality breaches, and ethical violations.
Strategies for minimizing liability risks: Implementing thorough documentation practices, maintaining proper client boundaries, and receiving ongoing training can help minimize risks.
Legal considerations in therapy insurance credentialing: It's essential to ensure that your insurance coverage meets all legal requirements and that you comply with state regulations.
Liability insurance coverage options for therapists: Different insurance policies offer varying coverage levels, so choosing a policy that suits your specific needs is essential.
You can protect yourself and your practice by understanding and addressing these liability risks.
DENmaar offers Insurance Credentialing Services for Therapists
Are you a therapist looking to ease the burden of insurance credentialing? Look no further than DENmaar. Our expert team is ready to take the complex and daunting task of insurance credentialing off your hands. We understand the intricacies of the insurance industry and are equipped to manage all the paperwork, persistent follow-ups, and meticulous attention to detail required to keep your credentials up to date. At DENmaar, we harness the power of automation to enhance accuracy and speed, making the credentialing process as efficient as possible. Let us take care of your insurance credentialing needs so you can dedicate your time to what you do best—caring for your clients.
As we wrap up the insurance credentialing process, reviewing and double-checking all the necessary documentation is essential. It ensures everything is accurate and in order before submitting it to the insurance companies. Partnering with an expert credentialing service is like having a trusty compass, ensuring a smooth and efficient journey. By utilizing insurance credentialing services for therapists, you can save precious time and avoid the stress of independently handling the complex credentialing process. So don't hesitate to take that leap and embark on your insurance credentialing adventure today! Contact us now, and let's help quickly solve your credentialing problems.
Related Posts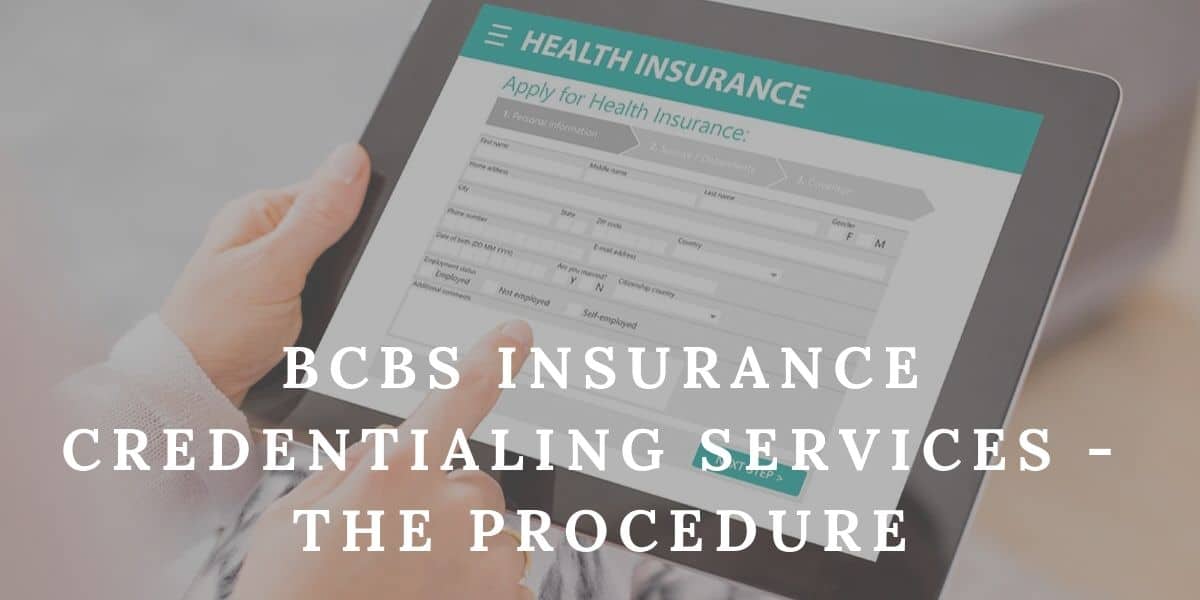 BCBS aka Blue Cross Blue Shield Association is a widely recognized federation of...