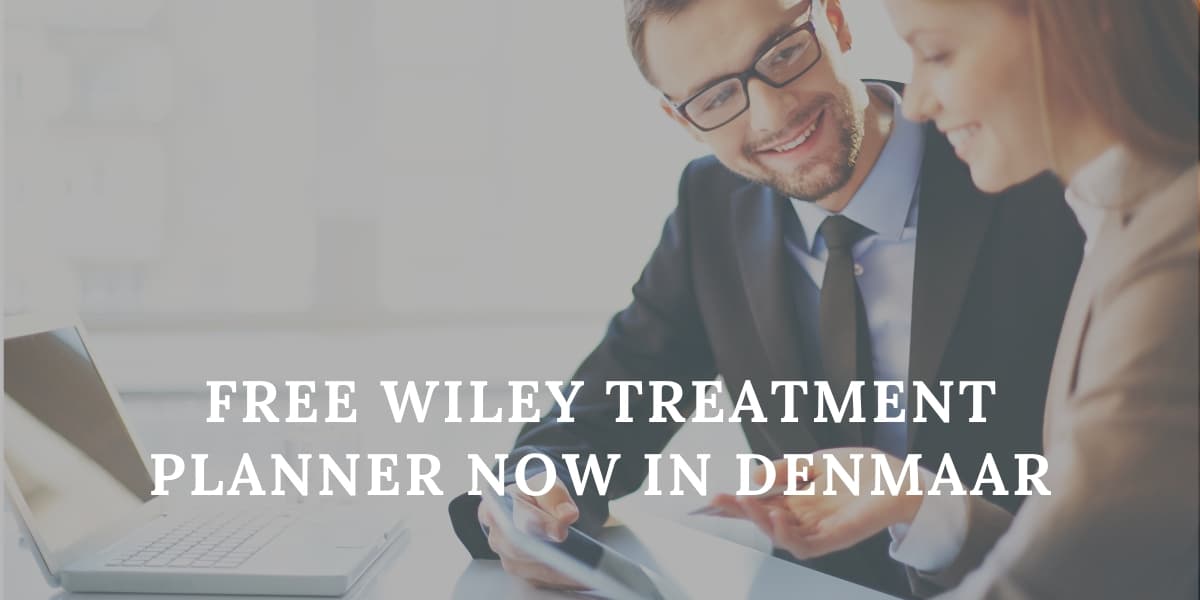 We at Denmaar have always strived to bring our clients a reliable and powerful feature that helps in the faster creation of treatment plans. Well, what seemed like a vision for the future is now possible because of our new Partner Wiley and their robust invention in Wiley Treatment Planner.
An Insight on Wiley Treatment Planners
Wiley treatment planners are now an integral part of Denmaar's Treatment Planners. Treatment planners, in general, helps mental health practitioners to not only define the problems they face on a daily basis but also helps provide them with goals, interventions, and objectives to create a fully executable, customizable treatment plan.
Here is How Wiley Treatment Planners Can Help You:
Saves Time that would have been wasted in Paperwork.
Offers Practitioners the freedom to develop a customized treatment plan.
Includes Over 1000 Clear Statement describing in detail the behavioral representation of each relational problem.
It includes long term goals, short term objectives, and clinically tested treatment options.
Deploys an easy to use format that helps locate treatment plan components by behavioral problems.
Apart from creating evidence-based options and best practices for your clients, treatment plans can also be useful when it comes to treatment review.
Build an Effective Treatment Plan with Wiley
1. Problem Selection
Treatment planners allow you to sort and apply to present issues relevant to your client. Choose the problem that effectively represents the problem of your client.
Example: Anxiety
2. Defining the Problem
The treatment planner has the ability to clearly describe the behavioral definitions of the problem represented in the client. The symptom pattern should be associated with codes found in DSM 5 or ICD-10-CM codes.
Example: Motor Tension
                 Hypervigilance
3. Goal Development
The planners provide a variety of other goal statements for each problem identified, so it is easier for you to set a broad set of goals for the resolution of the problem faced by the client.
Example: Reduce overall frequency, intensity, and duration of the anxiety.
4. Objective Construction
A treatment plan includes objectives written in the behaviorally measured language. This makes it more clear to review agencies, health maintenance organizations, and managed care organizations. The objectives mentioned in treatment planners are defined to meet the demand in accountability.
5. Intervention Creation
Interventions are the actions that are designed for the completion of your objectives. You will find at least one intervention for one objective.
6. Diagnosis Determination
The determination of a clear diagnosis is based on your client's complete clinical presentation. You must compare behavioral, emotional, cognitive and interpersonal symptoms with the criterion for diagnosis on the basis of the DSM-5 code. Remember it is ultimately your knowledge of the DSM-5 and client assessment data that will give you a valid diagnosis.
Treatment Planner with Denmaar
Our new feature now allows you to create treatment plans with unprecedented ease, NO TYPING REQUIRED!
It is well integrated into our platform to minimize both time and effort. The process is as direct as assigning a diagnosis to your client.
Wiley Treatment Planner is a gift we have been planning to deliver to our customers for a long time. Some of our community members have already tested the planner, and the response has been overwhelmingly positive.
Treatment Planners are just another convenient way to empower healthcare professionals to run their businesses more efficiently.
If you are already a Denmaar Customer, then you can use Wiley Treatment Planners for free now.
Learn More