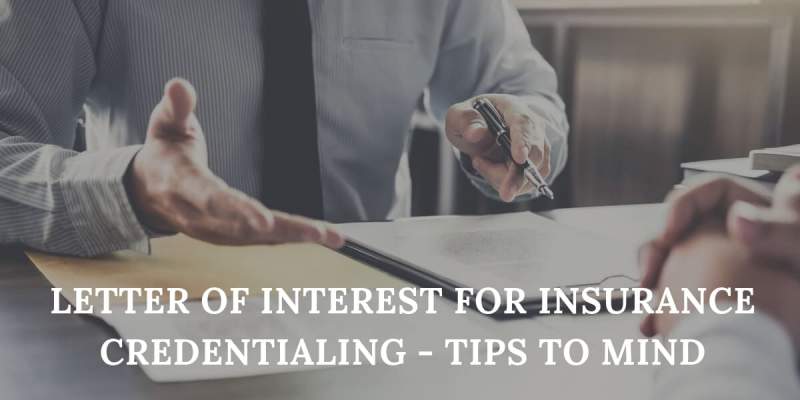 A letter of Interest is practically a letter you send to an insurance company of your Interest in hopes of getting paneled with them. Now, a letter of Interest in many ways is similar to a cover letter with one significant difference.
A cover letter is what you send before applying for a job at a specific point of time, whereas a letter of interest can be submitted at any time. Now, a letter of Interest with respect to credentialing should be sent keeping specific requirements in mind.
You are making an appeal to be welcomed as an in-network provider with an insurance company. Hence, it is essential to know how to approach a letter of Interest to make a compelling appeal to an insurance company.
Tips for Writing a Letter of Interest.
When a letter of Interest is written compellingly, it can become a powerful tool to persuade a payer to offer access to their network.
1) Identifying Information
As a provider, you must provide information that matches the enrollment application. Information like Name, NPI number, Tax ID, CAQH Number, the specialty and services provided by your company are all vital information to disclose in the letter of Interest.
2) Special Attributes
Don't forget to mention any unique attributes associated with your practice. Any defining features like whether your business is family-owned or corporation, whether it is a minority or women-owned small business. Small details like these can be instrumental in enhancing your appeal.
3) Unique Services
Highlighting a service, your practice offers that your competitor doesn't is also a good addition to your letter of Interest.
4) Geographical Locations
Specify your practice's geographical location. State whether you work in rural or urban areas.
5) Patient Demographics
It is essential to define the kind of patients your practice caters to on a regular basis. Bunch them to include patient groups by age, income group, gender, etc.
6) Referring Services
You can also mention the services you offer which are available for referral. Services such as durable medical requirements, home health, and hospice care.
7) Competitive Rates 
Mention your competitor's rate in comparison to yours as well. Mention if the competitors provide a rate slightly less than the competition. This bit of information can make you more appealing than to the insurance company.
8) Information on Test Programs
Panels are always at a risk of being full. They won't accept a new practitioner to their already crowded network unless you entice them with something like test or trial programs of your services.
The other information you need to mention in a letter of Interest are as follows:
IRS Form W9

Applicable Licensure

Marketing material or brochure

Top billing codes or desired rates.

Sample claim forms
While writing the letter of Interest, do some due diligence, and find out the name and address of key decision-makers. Address the letter to them. Once you the information you need to send them the letter along with the application and any other attachments.
Make sure to address why you, as a provider, are unique and different from others in the market.
Learn More
What are the top insurance companies to be credentialed with?
It wasn't long ago when practitioners considered credentialing to optional. You could start your own practice and derive profits from it without ever caring for credentialing. Plus, insurance companies weren't even allowing certain medical practices like mental health clinics a place on their panels.
Fast forward to modern time, and things are not what they were just a couple of years ago. Credentialing has become crucial for medical practices to survive in an increasingly volatile and competitive industry.
Most American citizens today are covered by an insurance plan provided by some company or the other. If a budding practitioner fails to get credentialed with the insurance companies, then he will lose clients to his competitors.
Hence, having the knowledge of the top insurance credentialing companies is essential in a practitioner being able to thrive in the industry.
So let's look at some of the top insurance companies to be credentialed within the USA.
So, there are a few ways to determine which top insurance companies in the USA are the biggest in terms of a client base. Their popularity can be due to the following factors:
Companies Goodwill

Lives Covered

Company revenue

Accessibility etc.
Based on the above factors, we were able to list down the following behemoths. If you are a provider looking to get credentialed, you might want to get in touch with them.
1) United Health Group
Our first name on the list is ranked 3rd on the 2019 fortune 500 lists. United Health Group is a for-profit healthcare company based in Minnesota. As of 2019, it is one of the largest healthcare insurance companies in the world with total revenue of $226 billion, along with 115 million customers. It is divided into four divisions that together provide health benefit plans and services for large national employers, to individuals age 50 and older, to serve state programs that care for the economically disadvantaged, and medically underserved.
2) Anthem 
Anthem INC is also one of the largest providers of health insurance in the United States. As of 2019, the company has over 40 million customers under its belt. It is one of the largest for-profit healthcare companies in the Blue Cross Blue Shield Association. Today it operates as Empire blue cross blue shield in the state of New York and as Anthem Blue Cross Blue Shield in 10 other states.
3) Aetna
Aetna is recognized as one of the leading providers of health insurance in the United States. Aetna continues to grow stronger, with millions of users enjoying its medical plan. Hence many physicians and medical practitioners want to become participants in the Aetna healthcare network. The company's extensive network includes over 22.1 million medical members, 12.7 million dental members, 13.1 million pharmacy benefits management members, 690,000 primary care doctors, 1,200,000 healthcare professionals, and 5700 hospitals. 
4) Humana
Humana Inc is a health insurance company based in Kentucky, Louisiana. Over the years, it is responsible for amassing over 13 million Americans into its healthcare program. With revenue of $41.3 billion, Humana was ranked 56 on the Fortune 500 list.
Now, Humana credentials and re-credentials all licensed independent practitioners including physicians, facilities and non-physicians who fall within its scope and authority.
5) Cigna
 Cigna is a popular American health service organization based in suburban Bloomfield, Connecticut, and Philadelphia, Pennsylvania. Their insurance subsidiaries are major providers of mental, dental, accident, and life insurance to American citizens.
Cigna is known to provide Medicare and Medicaid programs to an individual in the US and some international markets. Hence many physicians and medical practitioners want to become participants in the Cigna healthcare network. To become a participant, however, healthcare services need to apply for Cigna Insurance Provider Credentialing.
According to Market Share, US News and World Report rated the following top insurance companies to be the most popular in the US.
United Health

Kaiser Foundation

WellPoint INC.

Aetna 

Human

Independent Blue Cross Group

Highmark

Cigna

Blue Shield of California
How Denmaar Can Help you Get On these Panels
Getting on insurance panels has never been as crucial as it has been today. With many American citizens now covered under an insurance program, it would be foolish not to get credentialed with an insurance company. However, credentialing has also become a challenge because most panels are almost full and are not taking in new providers.
Denmaar knows the credentialing world from top to bottom. We have assisted many practitioners, both group and private through the entire credentialing process and continue to do so till date. We are the insurance credentialing experts you need to crack the overwhelming process of credentialing for the best of your merits. At Denmaar we do the heavy lifting, so you can concentrate on tending to your clients.
Learn More