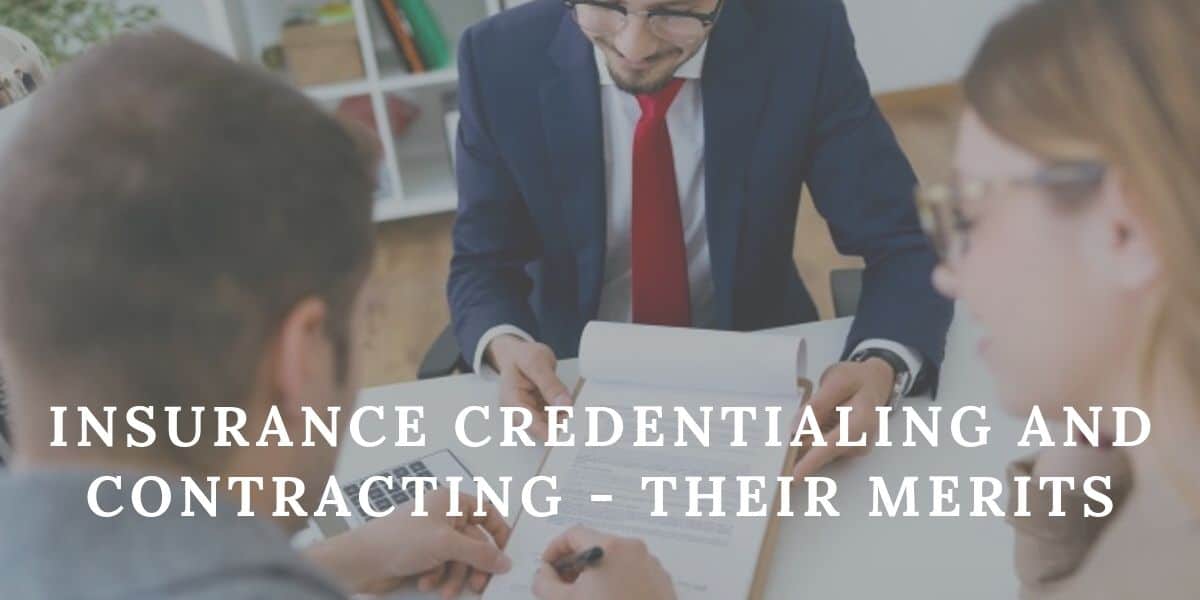 Insurance Credentialing and Contracting-Their Merits
When it comes to insurance credentialing and Contracting, you have to understand that they are two sides of the same coin. Both need to seamlessly go hand in hand for an individual or group practice to get on insurance panels.
In this article, we'll try to simplify the concepts of both Insurance Contracting and credentialing and find out how the two concepts intertwine with each other.
Insurance Credentialing
Credentialing is a process providers need to mandatorily undertake if they seek to serve clients covered by the federal insurance program. The applying provider needs first to verify his/her professional records to get credentialed.
This includes NPI, CAQH, professional licenses, diplomas, certifications, attestations, references, etc. All of these documents are essential to verify the accuracy and reputation of the concerned provider.
The same process applies if the Individual provider is applying for privileges in a group practice such as hospitals and surgery centers. They will be asked to submit a completed application which would be later sent to the credentialing entities for verification.
They will request the provider's professional documents which may include National Data Bank records, credit card records, and criminal background searches.
They will also indulge in what is called primary source verification, which basically means verifying the source of the provider's diplomas and educational certificates. There is no way to avoid this as hospitals are mandatorily required to check the above-mentioned documents to protect their patients from bad actors.
The Entire Credentialing process can be summed up as follows:
Getting Information in Order
Filling out the CAQH form
Contacting Provider Relations
Submit Application
Reviewing Contract after Approval
As you can see, Insurance credentialing is a lengthy process. It is advised to seek help from third-party service providers like Denmaar to efficiently carry out the overwhelming process. The entire Insurance Credentialing and Contracting process culminates with the approval of the contract by the insurance company.
Contracting
If credentialing was the process of gathering and submitting information, contracting is the process of submitting the information and obtaining credentialing approval. This is where the provider finally obtains participation on an insurance panel. This means he/she can now take in clients that are covered by the health insurance coverage of that particular company. We often see providers enroll in these plans, only never to renew them again.
It is almost as if they forget that their application with a said insurance panel comes with an expiration date. A lot of time may pass by, and insurers may not review your contract, thus failing to reflect on the provider's reimbursement rates. This spells a recipe for disaster as it can lead to thousands of dollars lost and payments interrupted.
Denmaar's Insurance Credentialing and Contracting for Providers
Although time-consuming, there is a reason why credentialing requires such a high level of scrutiny. The affordable care act has raised the standards of such scrutiny to reduce fraud and abuse when it comes to Medicare and Medicaid enrollment.
The same applies to the contract. It is essential to be aware of the information contained in the contract of approval. Attention needs to be paid on when the period of credentialing may expire, to apply for re-credentialing quickly.
Denmaar is a mhBilling company that helps providers with both credentialing and re-credentialing. We offer a fully automated system to our clients that keep them updated in real-time with updates regarding their application. At Denmaar we are not just concerned with verifying your forms. We also ensure you are always in touch with your process to ensure your credentialing process is as smooth as possible.
Related Posts
Psychologists Insurance Credentialing Services and counselors have become...