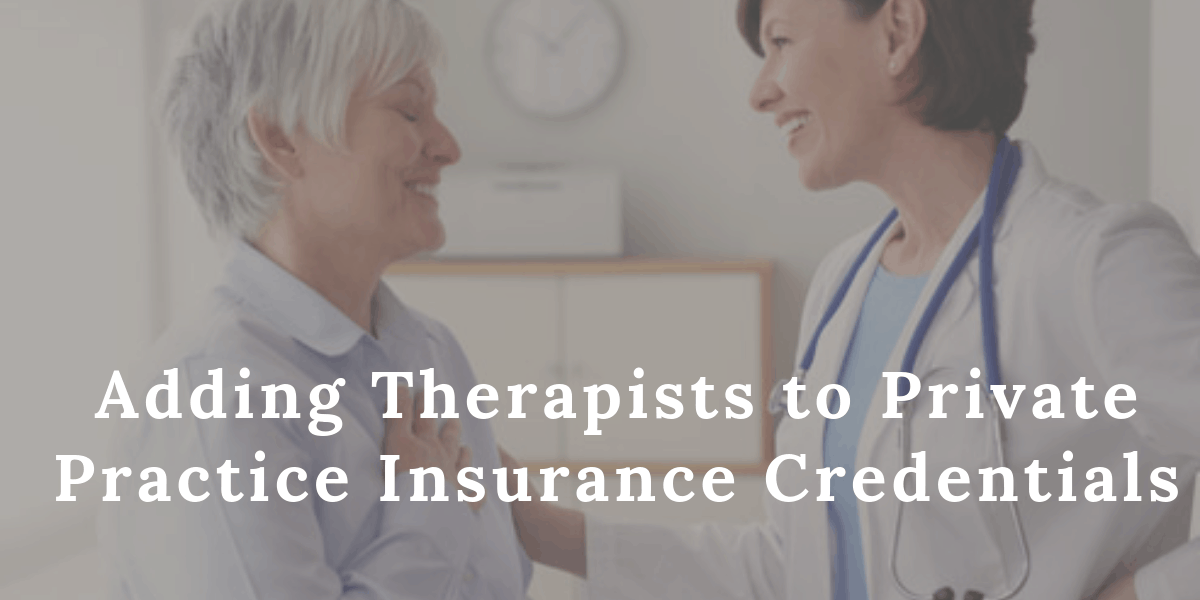 Denmaar aids in the process of adding therapists to private practice insurance credentials. Navigating the treacherous process of getting on insurance panels can be overwhelmingly complex. The entire therapist credentialing process takes up to 90 -120 days to culminate. Even while the initial application process is done, you still have to be available on call for 45-minute conversations relevant to your credentialing process.
The process of Adding Therapists is lengthy, with lots of paperwork to manage, and steps to follow. This is where Denmaar comes to the rescue of medical practitioners. We understand how important the time of healthcare professional is, and offer robust credentialing services that take care of the complicated process for you.
To make things simpler, here is the step by step process of getting on an insurance panel for Adding Therapists:
1. Getting Your Information in Order
As we mentioned before, Insurance credentialing requires a lot of information and documents from the practitioner.
They are:
  Licensure Information
  NPI Number
  Resume
  Proof of Malpractice Insurance
  Taxonomy Code
  Proof of Liability Insurance from Landlord (Applicable on if you are renting)
  Credentialing Paperwork
2. Fill Out Your CAQH
You will find many companies who use the Council of Affordable Quality Healthcare for the purpose of credentialing. Before filling out the CAQH form, you are required to hold an authentic resume with no gaps in employment. The application is supposed to be completed online via the CAQH hub. The entire process can be extremely confusing to follow, but we at Denmaar assist you till the end.
 3. Contact provider Relations
Once you have gone through the CAQH process, you are now afforded the liberty of choosing which insurance panel you want to be on. The insurance companies you choose may vary in the department of reimbursement rates, provider friendliness, payment speeds, etc.
Some companies may have their own sets of rules and requirements to apply. Now here you might face an issue of rejection, or not being accepted because the panel is full.
In such cases, you can do the following to build relationships with networks to gain access for future openings:
 Evening and Weekend Availability
 Experience with special populations
 Crisis services
 Handicap accessible facilities
 Being located in an underserved area
 Multilingual fluency
 Having an in-network referral source.
4.     Submit Application
Once you have taken care of the documentation and decided on which insurance panel to join, it's time to submit the application and wait. The entire process of getting paneled is relatively swift, culminating within 9-10 hours.
All you have to do now is a follow-up. You have to keep tabs on the status of your application. Chances are it might expire while still in the process if taken too long, and you don't want to start again. The insurance companies have to be notified every time you submit a document to ensure it has reached them.
5.     Review after Approval
Once you have received approval, it is still not an appropriate time to celebrate. Do the following to be on the safer side.
 Review your contract carefully before signing
 Keep a file with the agreement and any addendums ready for future reference.
 Learn more about the insurance provider's portal on their official website.
 Collect a list of phone numbers for the claims department, pre-authorization department, and provider relations.
Once you have taken care of the above bucket list, you are ready to sign. To speed up the process, Denmaar will help you submit your claims electronically. This will help you save time, money, and paper.
Learn More