Insurance Credentialing Specialists – Its Importance
You are probably thinking of whether to hire Insurance Credentialing Specialists or undertake the entire process solo if you are an individual or group practice. If you are even remotely aware of the workings of a typical credentialing process, then you know that going solo is probably not a good idea.
The credentialing process is long, and time-consuming, which can interfere with the efficiency of your practice. As medical professionals, that is something you can't allow to happen. Hence, hiring credentialing specialists for health insurance payments becomes a wise decision.
What is an Insurance Credentialing Specialist?
The primary role of an Insurance credentialing specialist is to work with group, private or other such medical practices. Hence, helping ensure their medical professionals are complying with government credentialing standards. Insurance Credentialing specialists take it upon themselves to verify the legitimacy of medical professionals with regards to their background, work experience, and education.
An Insurance credentialing expert will have an intricately organized database of the training, education, licensing, and experience information. They ensure that the data thus collected from a healthcare professional is complying with staff policies, government laws, and regulations.
Importance of Insurance Credentialing Specialists
Hiring credentialing experts like Denmaar, helps healthcare organizations in a variety of departments including, of course, the process of credentialing itself. We just discussed the role of insurance credentialing specialists with regard to credentialing. Now let's dive deep to know why they are absolutely essential players to aid providers in the process of credentialing.
Hiring Qualified Healthcare Professionals
Credentialing specialists can help hospitals and medical organizations hire only those professionals that are qualified and meet all of the credentialing standards set by the government. Specialists extensively verify documents to check whether they are compliant with rules and regulations. This helps hospitals and health care enterprises maintain a staff of competent professionals.
Getting In-Network with Insurance Companies
Getting on insurance panels is what credentialing is all about for many providers. They want to serve clients who are covered under a particular or federal insurance program. Without the necessary credentialing requirements, that is not possible, and the practice loses valuable clients. Third-party credentialing specialists like Denmaar, walk you through the entire process without any hassle so that medical practitioners can concentrate on their practice.
Denmaar also helps in speeding up the process with Medicare, Medicaid, and other commercial insurers, allowing you to now see patients faster and get paid for them sooner.
Credentials Management
The entire application process, diligence, and constant follow-ups can be overwhelming for a provider. However, credentialing specialist relieves providers of such a burden. They keep providers up to date on their application and expedite the process that would usually take months to complete.
Most credentialing specialists now use robust softwar9e's to manage the credentialing process for their clients. We at Denmaar use a fully automated system that inputs all the relevant information from the provider. The system also provides automated updates on upcoming expiration dates to ensure credentialing is done on time, and providers can continue to accept patients.
Why We Need Credentialing Specialists Today
With a significant portion of the nation's population already covered under a federal or commercial insurance program, credentialing has become vital. Without it, providers will continue to lose clients. On the other hand, we realize that credentialing is a complex process.
Hence Denmaar has a team of credentialing experts ready to deliver on our promise of efficient credentialing services. Our specialists meet the qualifications that any insurance credentialing specialist job description needs.
With our experts and an advanced system, we promise an efficient credentialing process, unlike any other in the market.
Related Posts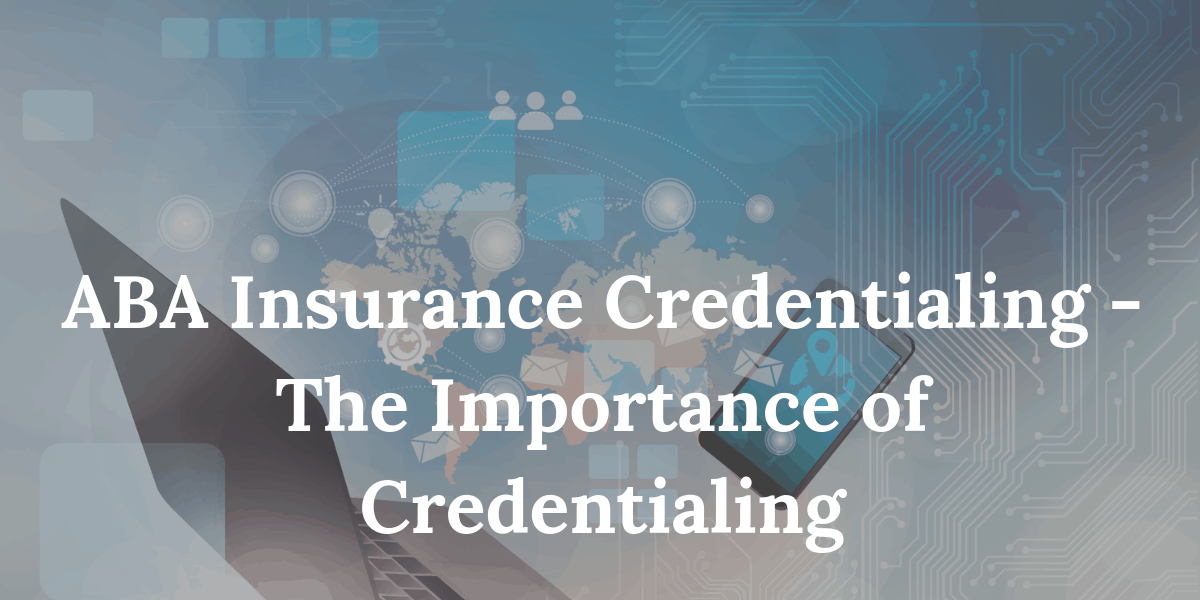 ABA insurance credentialing is one of the many crucial aspects required to run a...