Avoiding Billing Errors for an Efficient Behavioral Medical Billing Process
Medical billing can be a crucial, but complicated process. It constitutes one of the most vital components of the health care industry, especially the behavioral healthcare sector. What makes the behavioral medical billing process concerning is the frequent billing errors that are pervasive throughout the industry.
Errors in coding are frequent sights to witness, especially when it comes to behavioral health, as such the diagnosis, treatment and coverage for a patient can be extremely messy. This, in turn, makes the claim submission process messy, resulting in most cases with denial of the claim.
Prominent Billing Errors
If we have any chance of combatting the issue of billing, we must first try to understand its cause. Some of the most common errors are listed below.
Clerical Errors
Errors such as incorrect spellings, typos in insurance ID's are a major reason for insurance firms denying claims. The name, contact, and address of both the provider and insurance company could be entered incorrectly. This is because the medical bills can be influenced and changed by dozens of people, hence such errors are common
Outdated Information
Apart from incorrect information, outdated or obsolete information can also put a wrench in your claim approval ambitions. Outdated information may come from the patient themselves. Claims can be rejected if data is found to be outdated; hence keeping data up-to-date is crucial.
Incorrect Quantities
An incorrectly entered quantity can end up charging the patient extra. Even erroneously adding a zero at the end of a number might widely exaggerate the cost of the treatment. Such errors should be avoided at all costs.
Messy Documentation
Most physicians have illegible handwriting. At this point, this has developed into a cliché amongst various medical professionals. However, this can also result in claim rejections as the handwritten documents are simply too messy to be comprehensive.
Double Billing
Double billing, unfortunately, is a common Behavioral medical billing mistake that has been going on since time immemorial. A patient might be charged twice, once by the doctor and once by a nurse who wasn't aware of the doctor's actions. A patient might also be charged twice for both drugs prescribed and drugs administered.
Undercoding
Undercoding occurs when the act of behavioral medical billing for a service is less expensive than the treatment provided, or leaving out codes altogether. Patients might be undercoded by providers to minimize patient's costs or avoid any audits. Unlike other errors, this error affects the provider more than the patients.
Upcoding
Upcoding occurs when the act of billing for a service is more expensive than the treatment provided. This happens when a billing code is incorrectly changed to represent a more severe treatment or diagnosis. Upcoding has been deemed illegal and can also inflate a medical bill.
Incorrect or Mismatched Codes
Incorrect or mismatched codes can occur when a provider upcodes a patient's diagnosis without changing his billing code. Mismatched codes can also inflate claims due to upcoding.
Unbundling
Unbundling is an act of billing for individual services that can be covered under a less expensive treatment plan. This basically means that charges which were typically falling under one code are now being listed separately.
Best Practices to Avoid Billing Errors
With the above causes now crystal clear, let's look at some of the best practices that can help you avoid billing errors, and thus prevent claim rejections.
•     

Double Check Patient's Personal Information
This is probably one of the easiest ways to avoid medical billing errors-simply verify and re-verify your patient's personal information. Make sure all the information submitted by them is correct and devoid of any silly mistakes and omissions.

•     

Double Check  Patient's Insurance Information
Make sure to call your patient's insurance company before you provide them with your services. Check whether their policy number and coverage are the same and that you have updated billing contact information.

•     

Establish a policy to compile billing information
Establish a clear and precise policy that communicates accurately how billing information needs to be handled and managed by your staff. You have to ensure your patients aren't being charged twice, hence make one person-in-charge of monitoring and managing the staff that handles billing.

•     

Follow up on your claims
You can avoid errors by simply being diligent in your follow-ups with insurance companies. A representative working on your claim might be able to inform you of errors, allowing you to rectify and re-submit a polished claim again.

•     

Establish Clear Communication and Co-ordination
Everyone working on a claim in your staff should be well aware of their roles and responsibilities. They should also be well organized and coordinated to know how to communicate with each other effectively. Stay up-to-date It is crucial that you stay up-to-date with your claim process and avoid the entry of any kind of obsolete information from your documentation.
DENmaar's Mental Health Medical Billing Service
As you can guess from the article, behavioral health medical billing is not a walk in the park. A lot of effort, blood, and sweat goes into the entire process. It can be time-consuming and really frustrating for mental health practitioners who just want to tend to their client's needs.
Here at DENmaar, we partner with concerned practitioners to offer pre-authorization, third party billing, claims follow-up, and to assist with appeals for any denied insurance claims. With DENmaar, you get the assistance of our behavioral health billing specialists to make your billing process easier than ever.
Related Posts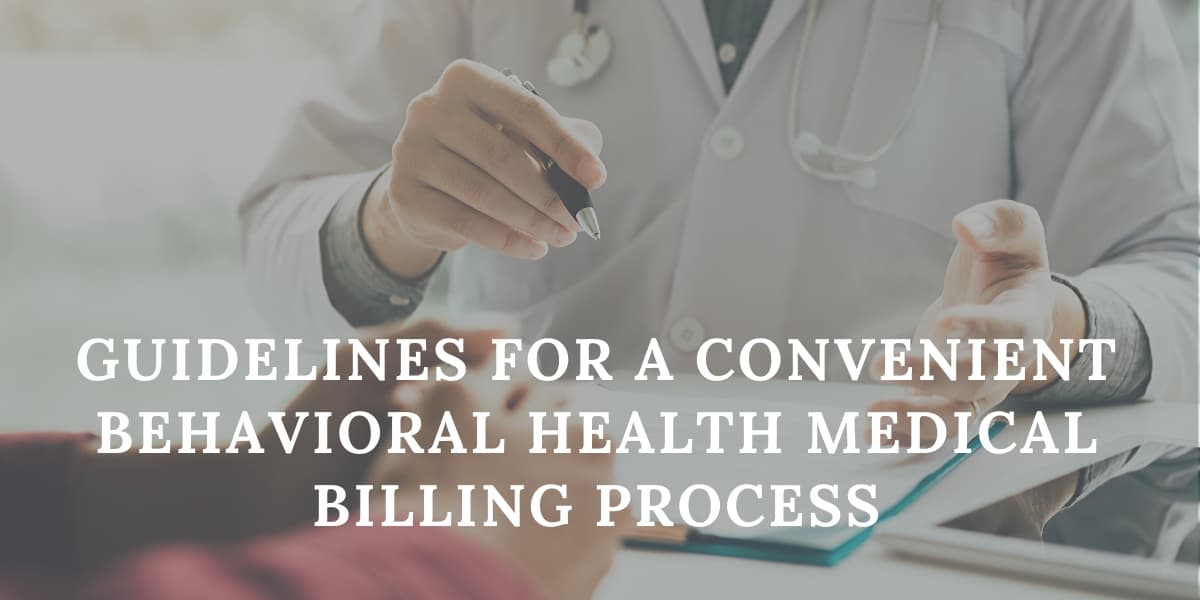 Medical billing on its own is a seriously complicated process. However, medical...