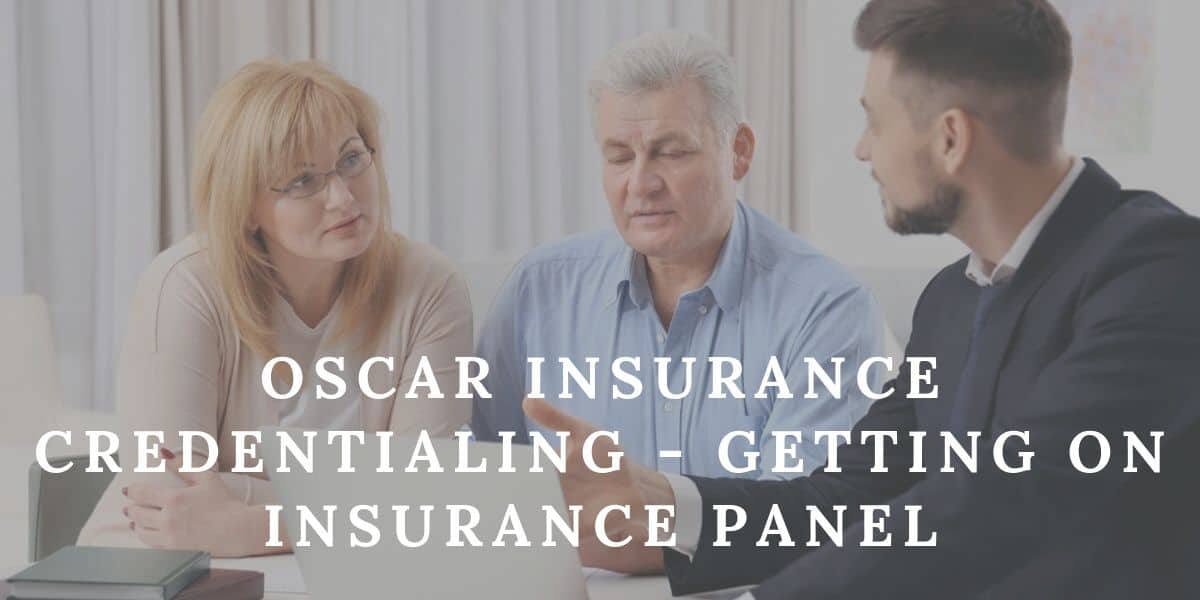 Let's understand the process of Oscar Insurance Credentialing
Oscar insurance company is a technology-focused healthcare company that was founded in 2012.
Headquartered in New York City, Oscar provides its services in 9 states across the USA. These 9 states include New York, New Jersey, Ohio, Texas, California, Tennessee, Arizona, Michigan, and Florida.
The company has been popular for using advanced technology to engage with their clients. They use telemedicine; healthcare based technological interfaces, and transparent claims pricing systems.
Oscar began selling insurance the same year the affordable care act exchanges and individual mandates went into effect. In the first year, Oscar managed to secure 16000 members, and it has progressed into even more significant numbers ever since.
As of today, there are at least 25000 members covered under Oscar's insurance program. They have not only partnered with 3500 nationally ranked doctors, but also work with 20 top health systems in the US.
Hence credentialing with Oscar is crucial if your practice falls under their jurisdiction. This will allow you to tap into a client base that is covered under the Oscar insurance program. So without much further ado, let's look at the process Oscar Insurance Credentialing for providers.
Oscar Insurance Corporation Provider Credentialing – The Process

1. Pre Application
Before applying, Oscar requires practitioners to submit the necessary information to confirm that the applying practitioner is meeting basic guidelines of insurance credentialing with OSCAR. An Oscar representative is assigned to the practitioner who informs whether the applying party meets all the mandatory guidelines or not.
2. Submit Your Application
Once the practitioner is deemed compliant with Oscar's guidelines, they send an e-mail containing all the information the provider needs to initiate the process.
If the application information already exists on the CAQH aka Council for Affordable Quality Healthcare, then OSCAR will with the provider's permission, proceed to access it electronically.
The following information is essential from the provider, depending on :
  Basic Personal Information
  Education and Training Information
  Specialties and Board Certification
  Malpractice Insurance Information
  Work History and References
  Disclosure and Malpractice History
Here are some materials you'll need:
 CV or Resume
 Malpractice or Insurance Policies
 Drug Enforcement Administration Certificate
 State Licenses
 W9'S
 Various applicable ID numbers
3. Follow Up
Once Oscar Insurance Credentialing receives the application packet, they will start the credentialing process. The entire process will take 45 to 60 days to culminate.
During this time, the provider will receive e-mails regarding:
Confirmation of Application received
Request any missing documentation or application information. If any fundamental document or information is found to be absent during the process, Oscar will send a notification, notifying about the closure of that particular application.
Constant updates about the status of an application, including delays if any.
4. Oscar Approval
If Oscar approves a particular practitioner's application, the practitioner becomes an in-network provider with OSCAR. Oscar health Insurance Credentialing will updates the provider information in their database within the next 10 business days.
Being an Oscar in-network provider can be a very long and tedious process. The entire process requires at least 90 – 120 days to be completed and approved. There is a lot of paperwork, which makes the whole process quite frustrating for medical practitioners who want to accept clients with medical insurance. That is where the professional assistance of Denmaar comes into play.
With the help of our credentialing experts, we can walk you through the entire process by accomplishing tasks without any complications and hassle so that you can work on other core areas of your medical practice.
Learn More