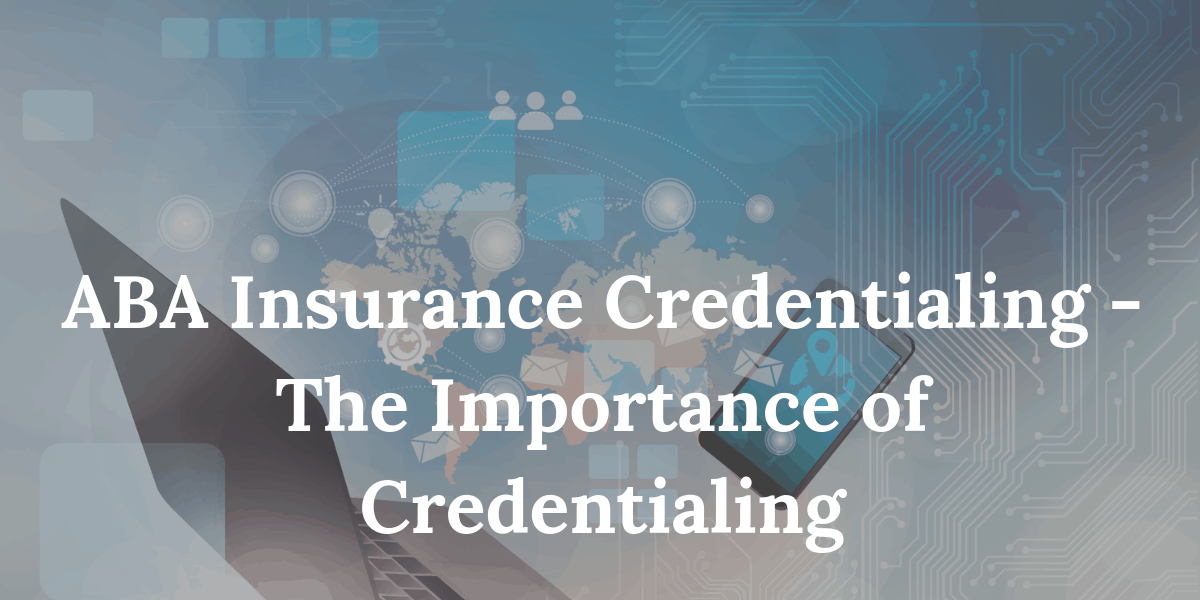 ABA insurance credentialing is one of the many crucial aspects required to run a behavioral therapy clinic. A successful medical practice has many moving parts that define its performance every day. A healthcare organization must meet its credentialing requirements to provide services to their patients. If a medical practice fails, for whatever reason, to get credentialed with government medical agencies like Medicare, they cannot treat patients and collect payments from patients who are covered by the federal insurance program.
ABA Insurance Credentialing Therapy
Credentialing is the process of assessing the background and legitimacy of a medical practitioner and establishing the qualifications they require to become licensed professionals. As ABA therapists are practically board approved behavioral analysts, one cannot be an ABA therapist without meeting the credentialing requirements in their field of practice. With the help of ABA credentialing, behavioral therapy clinics are permitted to legally serve new patients and get paid by these patients for the services they perform.
Stop Losing Clients, Call us now on: 1-888-595-5101
Why Get ABA Insurance Credentialing
A Population Living With Autism Spectrum disorder
It is estimated that at least 3.5 million Americans today live with an autism spectrum disorder. The numbers signal the imminent demand for ABA therapists who have the skills and qualifications needed to provide medical attention to the ailing population.
Consistent Work
Probably one of its vital benefits is how it can get a medical practice onto an insurance panel, or better yet turn them into an in-network provider. This allows for dealing with billing codes, rates, and other reports and deliverables consistently. The overall uniformity this system offers can help healthcare enterprises make important decisions more effectively and efficiently.
Better Customer Support
As many insurance companies, today have their own team of autism specialists, in-network providers such as licensed ABA therapists have the chance to socialize and build valuable relationships within the organization that can help with faster claim resolution, or helps resolve queries regarding claim issues. This allows for pre-authorization, re-authorization, and claims information online. All of these factors ultimately enable clinics to provide better customer support to their customers.
Electronic Claims
Getting credentialed allows medical practices to send bills to insurance providers electronically. Electronic claims are a faster, more convenient way of receiving payments quickly than traditional paperwork. Unfortunately, this benefit cannot be enjoyed by medical practices that don't possess the necessary credential requirements.
The Process of Getting Credentialed.
The ABA credentialing process is a tricky one. The whole process can take around 90 to 120 days to culminate. It is highly recommended that the credentialing process be started as soon as possible, especially for new medical practices. Because of its length of time, and complicated nature, it is highly advisable to seek the help of third-party support like denmaar who can get the job done for you.
The following is the process to get ABA Insurance Credentials
1.The first step towards getting credentialed requires medical firms to apply for an NPI aka National Provider Identifier. An online application requires the input of information like social security number, BCBA certificate number or BCaBA certificate number, Taxonomy code for behavioral analysts, and BA license number if applicable. The NPI is usually acquired within a day and is essential to receive reimbursements for ABA services with any carrier.
2.After the acquisition of NPI, the next step is to become a member of The Council for Affordable Healthcare. A medical practice can only become a part of CAQH. The medical practice needs an invitation from the insurance provider. Once the firm can log in to the CAQH system, they are required to submit a plethora of information such as employment history, references, resume, and W9, BCBA, or BCaBA certificates, educational history, information about medical practice.
3.After the application is completed, insurance companies will have access to the information provided. They will use the information to verify it with their agency.
ABA Insurance credentialing Medical practices need to be privy to all the plans and terms of coverage offered by insurance companies. It is also worth noting to get crucial information about a company's ABA coverage. There is no point in the existence of a Behavioral therapy clinic without the necessary credentialing requirements. Credentialing is essential for medical practices to continue to accept new patients and receive payments to justify their services. The process to get credentialed can be tedious, a problem that can be alleviated by hiring third party professionals like denmaar who can do the heavy lifting for a medical practice.
Learn More