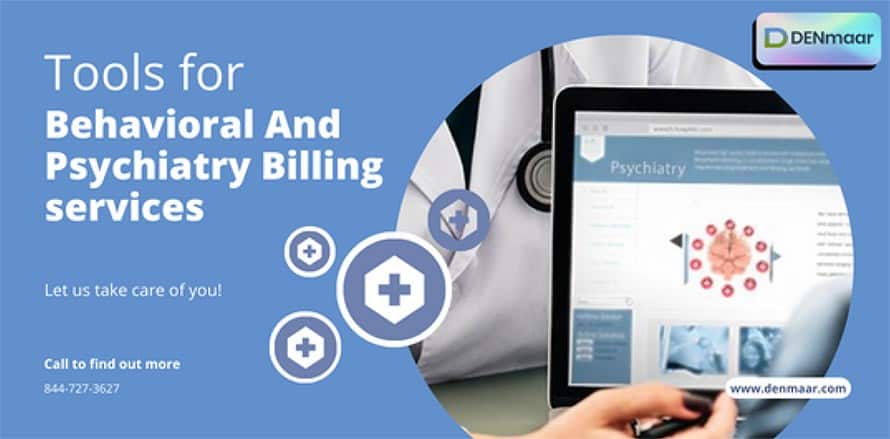 DENmaar provides a suite of mHealth IT solutions and services.
Since 2008 DENmaar's sole objective has been to provide mental healthcare providers and practices with valuable services and tools to enable increased revenue, decreased administration time, and improved patient engagement experience. Utilizing internally designed IT systems built explicitly for the mental healthcare specialty
What tools are used for medical billing to manage behavioral and psychiatry medical billing services?
The field of psychiatry, medical billing, and mental health is unlike any other medical field. But analysis and diagnosis in the context of mental illness and treatment are more complicated to understand. Because of the complexities involved in treating mental and behavioral health problems, medical billing for psychiatry has become more complex than for other practices or fields. To effectively manage behavioral and mental health practices, it is necessary to know the various aspects and adjust the required tools and resources to help your billing team be available to patients who need them.
Having the right medical billing software is vital to ensure accurate billing. With the right tools, providers can streamline medical and behavioral billing requirements. It is also essential to note that there is no one-size-fits-all solution. Programs designed to meet specific practice needs enhance RCM and clinical practice.
DENmaar Revenue Cycle Management
Our behavioral health billing software harbors an RCM claims engine that allows mental and behavioral health practices to handle their revenue cycle management in a manner that ensures successful claims submissions and timely reimbursements.
Psychiatric medical billing services use the following tools:
Special coding
Medical billing for psychiatric and behavioral health uses special codes to ensure accurate billing. Codes created are not used by mental health professionals and are not included in the mental health billing process.
Sometimes systems slow down the billing process because medical health billing requirements are bypassed with previously submitted irrelevant information or data that cannot be used at the time of billing. The program, designed specifically for behavioral health and medical billing, comes with a list of frequently used codes. The program keeps updating codes that you don't use for your practice. These codes are not completely deleted from the system but are acceptable when the invoice is issued.
Custom dashboard
In addition to prioritizing billing codes under a billing specialty program designed explicitly for behavioral, psychological, and mental health, billers must offer specific dashboards. Customized billing reports will show how your practice is progressing and how much effort it takes to create accurate billing that improves your practice's efficiency.
Claim advertising tools
The more organized your claim, the quicker they will respond. As insurance companies begin to consider patients' mental illness diagnoses, medical billing causes providers to accept insurance options for billing. High-quality software designed to meet the necessities of professional offer tools to ensure accurate billing for clean claim submissions, allow payment options for practitioners and verify insurance coverage before submitting the process.
Special services
Mental health clinic staff are often young, so outsourcing psychiatric billing claims to behavioral health may be the best option to focus more on patient health.
Coding expert
Suppose psychiatric medical billing coding is contracted to a trusted third party. It means you delegate billing authority to psychiatry professionals who are well-versed and knowledgeable.
Depending on your needs, programming experts are trained to provide up-to-date medical and behavioral health codes. When your staff is tired of billing for specific coding practices and meeting required standards, shifting the workload to your billing partner will help you stay on the cutting edge of technology.
Eliminate administrative responsibilities
Keeping billing staff in-house is expensive, and billing structures demand administrative responsibilities that require quick and often time-consuming actions. Outsourcing your medical billing to a trusted party removes the complexity of managing an in-house billing staff and allows you to focus your entire mental health on patients and services.
Claim Management
Medical-behavioral and psychiatric billing outsourcing enable first-time access to accurate claims, submission, reimbursement, or denial management. They open a single window for complete claims management that meets timely payment process optimization needs, ensuring that even rejected claims can be safely resubmitted when the entire billing process is handed over to a trusted party.
Outsourcing invoice approval services uses real-time claim tracking and filtering tools that don't count rejected claims after course correction. After the separation of denial claims, corrections are made promptly to resubmit them before expiration.
DENmaar uses all the necessary tools for medical billing to manage behavioral and mental health. Full-service Revenue Cycle Billing services, authorization assistance, claims rejection, and denial resolution.
844-727-3627 Insurance Credentialing & Mental Health Billing Services (denmaar.com)
Learn More