Want to Fill Your Day Sheet ?
Whether you are a psychiatrist, psychologist, social worker, mental health care nurse practitioner, or therapist….being on your own means growing your own practice. Are you doing all you can to be  a successful behavioral health care provider?
Here are a few ideas at how you can be successful at growing your practice:
Get Listed – Get your URL listed on as many free directories as possible, especially the Psychology Today Find A Therapist directory. Social Psychology Network Directory , Directory of National Associations of Psychology, Healthgrades Find a Clinical Psychologist.
Networking & Referrals – Mail post-cards to specific family care/general practice/ or pediatricians (depending on your specialty) Or better yet take a handful and schedule an appointment to meet a few Drs. to establish a referral relationship. Many behavioral healthcare appointments are made through primary care referral.According to the law of reciprocity, when you give, you receive," says Larina Kase, PsyD, MBA, a marketing psychologist and author of The New York Times best seller The Confident Speaker, among other titles. "When you provide true value for your referral partners, they do the same for you. The value you provide needs to be authentic and the giving needs to be from a place of inspiration—without necessarily the expectation of something in return right away."
The Big Four-Get paneled. Are you panelled with Aetna, Blue Cross/ Blue Shield, Cigna and United? All these insurance carriers have provider directories that is another way for patients to find you. If you do your billing with Denmaar Psychiatric Billing we can assist you with all the tools you need to do so.  
Get on Google – Google is the #1 search engine in the world. You need to be easily found on Google and Google Maps. When you are looking for something online what do you do first? You Google it!. If someone is looking for a special type of counseling or someone close to where they live they will google it too! Make sure you are on Google maps, as well as Google my Business .
Associations– Join Associations such as the American Psychological Association. Not only will you get great tools for your practice, you have the opportunity to join educational webinars, and understand the current tools for the trade.  Not only that, but when a patient sees the additional memberships on your wall, they will feel more comfortable that you not only graduated but are a member of a reputable organization.
Keep your patients happy Engage in behavioral engagement strategies such as contingency management and motivational interviewing. Give them a warm welcoming environment. Call them: with  a reminder phone call the day before, or a follow-up to a missed appointment.
Form one time workshops or support groups. This is a great way for you to break into meeting new potential clients. Place an ad in the local paper for a planned Tuesday night group meeting about a specific topic. Make it free. Plan it for a few months down the road. Have a sign in sheet to record the name and email, and follow up with an email a week later to the attendees. It can be on eating disorders, mindfulness, or for bipolar spouses, for example. Those who need tools to cope with living with a family member with mental health issue can benefit from therapy as well!
Webpage– Do you have one? People love to look over webpages as they make decisions and check out a potential provider. A good web page is not overly complicated. When people search for things like "marriage counseling" You want to have keywords most relevant to your specialty and the types of patients you serve. The more those words appear on your Web pages the higher up key words.  As a mental health care provider they shouldn't just relate to what type of care or clients you serve; you should specify zip code, city and region as well. Here at Denmaar Psychiatric Billing we can assist you.
Related
Related Posts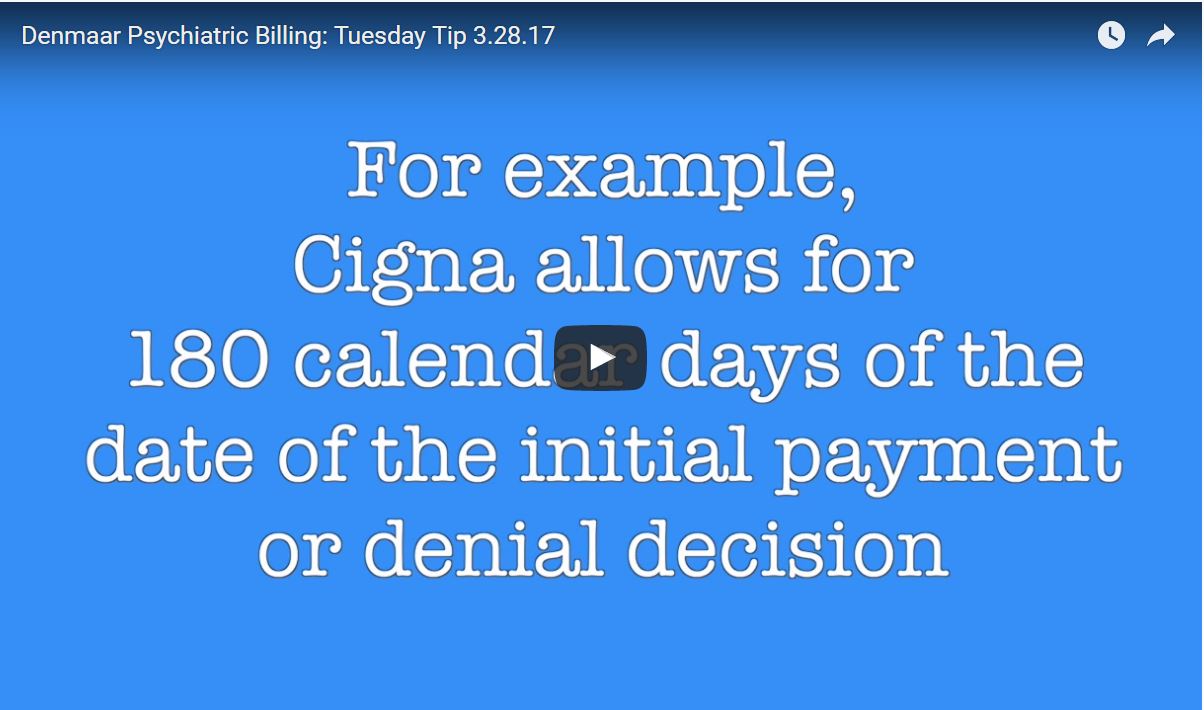 Just because a claim is denied, doesn't mean it's time to throw in the towel....